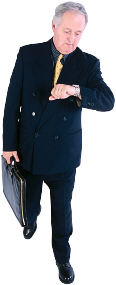 They want quick, clear, concise, and easy to remember.
"a picture worth a thousand words"

"less is more"...more effective and more economical

streamlined content

sound bites
To illustrate, here are some sound bites Dr. Goldberg wrote, which are displayed on this site, including under the menu at the left of each page.
You can afford to let people know about your work, but can't afford not to.
Unless you publicize your work, you will be out of work.
To stand out from the crowd, you have to show why you are outstanding.
The best time to do something is before you have to.
We can help you reach and teach professionals with online continuing ed.
You can expand your work and their world through distance learning.
We practice what we teach.
A sample is the best example.
The time to get ready for an opportunity is before it happens.
If you want to earn more, you have to show why you are worth more.
If you don't find opportunities, opportunities won't find you.
Our work thrives on making your work thrive.
By invitation, Dr. Goldberg wrote and recorded sound bites for the American Psychological Association with stress management advice, which were distributed to radio stations throughout the United States for broadcast following 9/11 and the anthrax attacks. Here are excerpts:
Fear of terrorism has more victims than a terrorist act.
My own definition of terrorism is psychological warfare.
Web Sites and Sound Bites?knows how to write for web sites and media.