Web Sites and Sound Bites?/sup> provides a unique combination of coordinated services to enhance and publicize your work.
The banner at the top of every page
states our complex mission concisely

provides a convenient, quick way to contact us by e-mail.
Our logo conveys much information in an easily remembered visual:
clearly tells what we do

rhyme helps name recognition and recall and adds zip

Service Mark Registration ?/b>

computer monitor represents web site design

TV screen represents media coaching, summarized in "sound bites" (short memorable phrases media love to quote)
Specifically, Web Sites and Sound Bites?/sup> provides:
Web Site Services
design web sites, including revising ineffective and stale sites
multimedia web sites, which include video and audio components
private drafts online for discussion during web site development
consultations about client's work, coordinated with web sites and marketing, have confidentiality
develop online learning, including for staff training and professional continuing education
consultations to organizations to enhance communication between business teams and web technical teams
web sites and publicity materials for campaigns for offices and causes
Multimedia Coaching
stress managed coaching for speaking comfortably and effectively to broadcast, print, and in-person audiences

what to say to communicate clearly with audiences
how to get calls from journalists, speak clearly to them, and avoid being misquoted
how to be invited to be on television and radio, prepare, and look and speak well
where to find opportunities for free media publicity
develop educational videotapes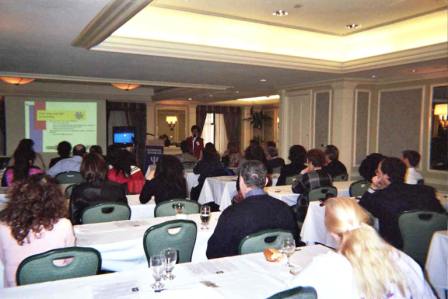 Dr. Carol Goldberg conducting a multimedia coaching workshop.
Our name, Web Sites and Sound Bites, embedded into a logo makes it easy to remember such varied services. It illustrates the clear and concise communication, logo, and features we can do for your web site.
For your convenience, we take credit and debit card payments.
You'll wonder why you waited so long when you see how stress-free and affordably Web Sites and Sound Bites?/sup> can show off your work.